A peek inside the Church's drawers: South Dakota sex abuse scandal
Originally published on the Huffington Post in April 2011. This article was part of a project funded by the George Polk Center for Investigative Reporting.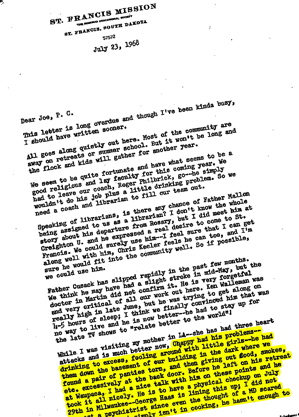 T

he letters are casual, even chatty, from officials of St. Francis Mission, on the Rosebud Sioux Reservation, in South Dakota, to Catholic Church superiors. The mission ran one of many boarding schools to which Native American parents were required to send their children from the late 1800s until the 1970s, when most of the institutions were closed down or transferred to tribal control.
"All goes along quietly out here," one priest wrote in 1968 (letter shown at left), with "good religious and lay faculty" at the mission. There are troublesome staffers, though, including
"
Chappy,
"
who is
"
fooling around with little girls—he had them down the basement of our building in the dark, where we found a pair of panties torn.
"
Later that year, Brother Francis Chapman (number 12 in the photo below) was still abusing children, though by 1970, he was
"a
new man,
"
the reports say. In 1973, Chappy again
"
has difficulty with little girls.
"
Some documents are more discreet than explicit. In 1967, two nuns at St. Paul's Indian Mission, on the Yankton Sioux Reservation, also in South Dakota, had excessive
"
interest in
"
and
"
dealings with
"
older male students, says a report to Church higher-ups.
Another nun has "too close a circle of friends, especially two boys
.
"
Francis Chapman ("12") and Paul Frey ("27") were both accused of abuse.
W
hat ex-students describe as rampant sexual abuse in South Dakota
'
s half-dozen boarding schools occurred against a backdrop of extreme violence.
"
I
'
ll never forget my sister
'
s screams as the nuns beat her with a shovel after a pair of scissors went missing,
"
said Mary Jane Wanna Drum, 64, who attended a Catholic institution in Sisseton, South Dakota, for the children of her tribe, Sisseton Wahpeton Oyate.
Izzy Zephier, 62, a Yankton Sioux tribal member, recalled a Sunday-evening ritual at St. Paul
'
s Indian Mission.
"
Those who had tried to run away were stripped, lined up, and given 40 lashes each with a thick rubber strap,
"
he said.
Girls walk to St. Paul's Church along a barbed-wire lined sidewalk.
Zephier described a prison-like daily routine.
"
We were marched along barbed-wire-lined sidewalks from locked dorms to locked classrooms and back again; in grade school, we went outdoors within a barbed-wire-topped pen.
"
The church building at St. Paul
'
s had its own crown of thorns in those days; it, too, was surrounded by a barbed-wire fence, lest worshippers made a run for it.
Rather than offering the children protection, the Church typically demanded secrecy, with clergy telling youngsters they
'
d be punished or go to hell if they told anyone what had happened to them, said several former students, male and female. The Church appears to have kept close track of these activities, though.
"
Every bishop has two sets of files—the public ones and the secret ones chronicling the abuse,
"
said Joelle Casteix, western regional director of Chicago-headquartered support group Survivors Network of Those Abused by Priests (SNAP).
"
The Church knows what happened when, and it all comes out in court.
"
South Dakota's Hail Mary Play
Accused abuser Francis Suttmiller
Starting in 2003, Native Americans in South Dakota, including Zephier and Drum, began filing lawsuits against the Catholic Dioceses of Sioux Falls and Rapid City, as well as the religious orders that ran the schools. The Native plaintiffs came forward in small groups, then ever-larger ones, claiming rape, sodomy, and molestation by priests, nuns, and others. By mid-2010, the number of plaintiffs topped 100, including six who said they were victims of Brother Francis Chapman, who is now deceased. More than 65 other pedophile clerics and Church employees were named, including the late Father Francis Suttmiller, shown right, accused by Zephier and more than a dozen other men and women who were St. Paul
'
s students.
The lawsuits resulted in the disclosure of Church documents (now public court documents, including those quoted above) that detail the abuse and describe transfers of predators, not all of whom are dead. After complaints about one brother surfaced in South Dakota, he was off to Washington, D.C., where he was convicted of sodomizing young boys there, his recent court testimony shows. Another priest who
'
s still with us, Father Bruce MacArthur, was transferred out of South Dakota, only to embark on a multi-state, multi-parish spree of sexual assaults of children and the disabled, for which he was convicted and imprisoned in the 1970s and again in 2008.
Children and nuns at a South Dakota mission school.
In March, a South Dakota court dismissed 18 of the Native American lawsuits. The judge
'
s opinion cited a 2010 South Dakota law limiting civil actions for childhood sexual abuse after the victim turns 40. The Native plaintiffs are older than that, and one of their lawyers, Gregory A. Yates, of Rapid City, South Dakota, and Los Angeles, charged that their cases had been targeted by the legislature. He asked the judge to reconsider his unusual retroactive ruling (applying a new statute to pre-existing cases).
On April 1, the judge refused to do so. The Catholic Diocese of Sioux Falls, a defendant in the dismissed suits, did not respond to phone calls requesting a comment. Teresa Kettelkamp, who heads the United States Conference of Catholic Bishops child protection division, said the Church offers healing to sexual-abuse victims, but that civil and criminal matters are in an entirely different sphere.
Said Zephier, whose suit was thrown out:
"
The statute and the judge
'
s decision are insulting. They say the justice system does not protect Native people and does not care that terrible things happened to Native children.
"
Commenting on the section of Pope Benedic

t
'
s

letter to the Church in Ireland, in which the pope favorably compared sex-abuse injuries to Christ
'
s wounds, Zephier asked,
"
Did Christ
'
s wounds include sodomy?
"
SNAP director David G. Clohessy observed that South Dakota
'
s new law swims against the tide of childhood-sexual-abuse prosecutions:
"
Most states are making it easier to expose predators. South Dakota is the only one making it harder.
"
Attorney Steven Smith, of Chamberlain, South Dakota, defended the 2010 law, which he wrote and submitted it as a
"
constituent bill." He said plaintiffs are unfairly "trying to grab the brass ring, seeing someone else grab the brass ring, thinking that
'
s your ticket out of squalor.
"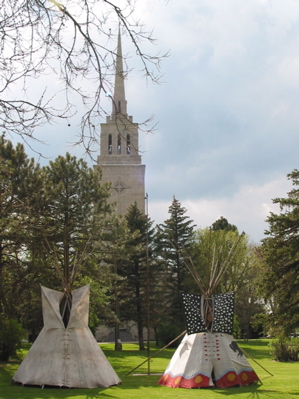 St. Paul's in 2008, with tribal school's graduation tipis.
Smith
'
s client Congregation of Priests of the Sacred Heart is the defendant in a dozen boarding-school cases, including one involving the convicted sodomite. When speaking to the legislature in support of his bill, Smith described childhood-related cases as hard for the Church to defend against because
"
few people can remember what happened or didn
'
t happen.
"
When asked about repentance on the part of the Church, Smith responded,
"
We aren
'
t going to throw money [sic] just because of this purported healing process the Church has to go through.
"
Native parents faced severe penalties, including jail time, if they did not send their children to the boarding schools. However, Zephier said, as a young teen he came upon an unexpected escape route:
"
School had just let out for the day, and I realized I
'
d forgotten a couple of books. I ran back into the building, where I found that a priest had a girl on the floor. She was fighting and screaming, 'Let me go.
'
When the priest saw me, he got up and backhanded me hard. I hit him back and yelled to the girl, 'Run, get out of here!
'
I hit the priest five times and knocked him down. The girl took off. The next day, I was expelled.
"
Zephier and other ex-students reported reaffirming their traditional spirituality upon leaving school. Drum participates in traditional ceremonies but has not entirely rejected Christianity.
"
I still walk with the Lord,
"
she said,
"
but I cannot even shake hands with a priest.
"
Update:
Since this article was published, the South Dakota Supreme Court has dismissed all Native sexual-abuse cases.
Text and photograph of St. Paul's 2008 c. Stephanie Woodard. Other photographs provided as a courtesy by reservation residents.