Native American candidate's marathon South Dakota run
P
ubl
ished in October 2010 on the
Huffington Post.
C

ampaigning in the South Dakota legislature's District 28 is an extreme sport — the political X Games of 2010. The vast expanse encompasses much of the state's northwestern quadrant, with 13,000 square miles stretching from rolling hills along the Missouri River mid-state across buttes and badlands to the western boundary with Wyoming and Montana. That's the first challenge for state senate candidate Julie Garreau.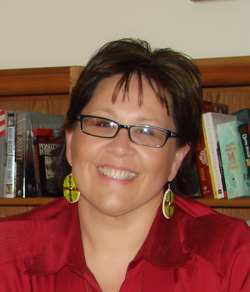 Finding voters is the next endurance test. The population is thinly spread in tiny towns and on ranches and two reservations -- Cheyenne River Sioux Reservation, where Garreau, left, is an enrolled tribal member, and Standing Rock Sioux Reservation, which straddles the border with North Dakota.
So how's Garreau holding up? On a recent day, she said, "We walked for about 5 hours to visit 77 homes on Standing Rock." Some days, she packs in 6 or 7 communities. Grueling? Not at all, Garrreau said. "The weather was perfect, the wind blew gently, and everything was good."
Garreau's candidacy is unusual partly because she's Native American -- the South Dakota legislature has few Native members -- but also because she's so positive, said Great Plains Tribal Chairman's Association executive director Gay Kingman, another Cheyenne River tribal member: "I've watched her spend her life working for others, doing much good with few resources. This year, campaigns nationwide have been very nasty, but Julie, in contrast, brings generosity and enthusiasm to the process."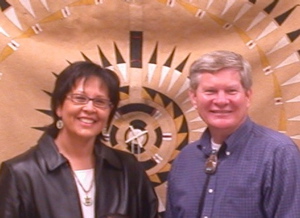 South Dakota's Democratic senator, Tim Johnson, at right with Garreau, agreed. He's endorsed her candidacy, saying, "Her dedication will serve the residents of District 28 well."
In addition to canvassing, Garreau has participated in candidate forums that let her tell voters about her achievements, including developing the Cheyenne River Youth Project from a one-room facility in 1988 into a major community organization with a children's center, teen center, family services program, and international volunteer program -- an effort that has garnered many honors, including one bestowed by President George H.W. Bush and the 2009 Spirit of South Dakota Award.
Building the organization also put her in touch with people across the country, and they've responded with campaign donations. "So many helped out when they heard I'd announced," said Garreau. "The South Dakota Democratic Party and Democrats in Action have also been generous. That's been great, because my reservation supporters tend to give time, which is also wonderful."
Her campaign has focused on listening to voters. "Everyone agrees we need better schools and roads, along with sustainable economic development," she said. Native communities report additional concerns, including gaming compacts, better law enforcement, and improved compliance with the Indian Child Welfare Act.
She's well aware that some of South Dakota's white voters may assume they can't support a Native candidate. Nevertheless, she decided to give everyone "an educated choice," she said: "When people meet me, I know I put them at ease. When they hear my public-service record, I see they react positively. As a result, many voters, including Republicans, are telling me, 'We're with you.'"
Another hurdle for Garreau is limited access to voting on District 28's two reservations, both of whose tribal governments have endorsed her. Neither reservation has been allowed to have South Dakota's early voting in its Indian communities, though the popular, convenient advance balloting is available in the district's predominantly white towns.
Early voting made headlines recently when another South Dakota reservation, Pine Ridge, was disenfranchised after requesting it and had to fight to regain a full-fledged election. "I'm still processing what happened there," said Garreau. "It was so heartless. We're citizens. Don't they want us to vote? However, the result is everyone's talking about early voting. In future elections, we'll hit this issue sooner and harder."
Nor, according to the candidate, has the state supported placing tribal and federal-state election precincts in close proximity throughout Cheyenne River on Nov. 2, as may occur elsewhere in South Dakota. South Dakota ACLU head Robert Doody, who lived at Cheyenne River as a Legal Aid lawyer, said that widely separated polling places mean voters there -- who have limited access to cars and gas -- will not only have a hard time getting to polling places. They may also have to chose which election they participate in, he said. Attorney Greg Lembrich, legal director for voting-rights group Four Directions and senior associate at Pillsbury Winthrop Shaw Pittman, concurred that reservation turnout suffers in such circumstances.
As Garreau has campaigned, autumn's advance has accompanied her, turning prairie grasses gold and brown. Despite, or perhaps because of, the challenges she's faced, her journey across the gilded landscape has become something of a pilgrimage, an opportunity not just to win an election, but to impart positive thoughts to those who are glad to receive them.
"There's been a lot of laughter, hand-shaking, and so many pretty babies," she said. "It's been great, just great."
Text c. Stephanie Woodard; photos courtesy Julie Garreau.