Pregnant Sioux women face "hell rides" to the hospital, induced labors -- and the ACLU wants to know why
P
u
blished by the
Huffington Post
in 2011.
For more on topics like this, see my book,
American Apartheid: The Native American Struggle....
W

hen I read my baby books, they said I should discuss my birth plan with my doctor and get a tour of the hospital," said a new mother from the Cheyenne River Sioux Tribe, in South Dakota. "But there was nothing for me. Not even a few Lamaze classes. Just congratulations and good luck."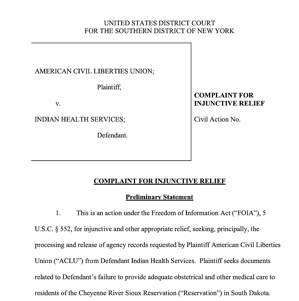 She and other pregnant women from the Cheyenne River Sioux Tribe have needed all the luck they can get. For about 10 years, they've traveled 90-plus miles over rough roads to give birth at St. Mary's Healthcare Center, in Pierre, South Dakota, which provides obstetrical care under contract to the Indian Health Service (IHS), the health care provider for Native Americans nationwide. If fate is on the women's side, they make the so-called "hell ride" strapped to a gurney in one of the few ambulances that serve the tribe's reservation, which is about the size of Connecticut. If lady luck isn't smiling on them, women in labor must scrounge transport in private vehicles, which are rare in the desperately poor area. This is all necessary because their reservation has not had obstetrical facilities since 2001.
In 2009, the American Civil Liberties Union requested that the IHS reveal plans for a Cheyenne River hospital and birthing center that's purportedly been in the works for most of a decade and is supposed to be paid for, in part, by stimulus money. The agency failed to cough up any data, so in September 2010 the civil-liberties group filed a federal lawsuit under the Freedom of Information Act, or FOIA.
Chi Mgbako, a Fordham law school professor and director of the Walter Leitner International Human Rights Clinic, compared health care for South Dakota's Native women to that in developing nations. She visited South Dakota in 2009, interviewed Native women in several areas, and participated with the ACLU in talking circles on the Cheyenne River Indian Reservation. "I've worked on women's reproductive health rights in poor countries like Malawi and Ethiopia," said Mgbako. "Issues on South Dakota reservations were shockingly similar, including women traveling miles in sub-optimum conditions in order to deliver their babies in safe birthing units." Mgbako described the IHS as failing its female patients and called the planned Cheyenne River hospital and birthing unit a pressing need.
As a result of the FOIA lawsuit, the ACLU recently received a few documents. "What we've got so far doesn't tell us much," said the rights group's South Dakota director, attorney Robert Doody. More items may be disclosed in the coming months. Alexa Kolbi-Molinas, staff attorney with the ACLU's Reproductive Freedom Project, said she was still trying to contact the government lawyer handling the suit in order to figure out what documents are coming and when -- and if the ACLU will have to fight to learn what's really going on at Cheyenne River.
The IHS refused to comment for this article, citing the ongoing suit. Though St. Mary's is not named in the suit, its spokesperson said only, "We strive to provide the best care for all our patients."
In the lawsuit, the ACLU also demanded items that would explain why induced labors (as opposed to normal spontaneous ones) are so common on Cheyenne River. "We want IHS materials -- not patient records, which are protected -- that show how the policy was developed and implemented," said Kolbi-Molinas.
D

oody became aware of the frequency of induced labors during the years he worked on the Cheyenne River Indian Reservation as a legal aid lawyer. Other observers noticed the phenomenon as well. Raylene Marshall, a staffer at the reservation's Dakota Plains Legal Services office, said pregnant clients would mention that they were going to give birth on a certain day. "When I asked how they knew, they said their deliveries had been scheduled," Marshall recalled. "Some also said they were uncomfortable with this and wanted their babies born when they were 'done.'" One Cheyenne River mother called induced labors "so common around here, they're considered natural."
More troubling, women may have been pressured into accepting induced labors; some reported to the ACLU that they were told the IHS wouldn't pick up portions of their bill unless they agreed to it. Upon arriving at St. Mary's late in her term, one young woman said, she learned she'd be induced immediately and couldn't take the time to talk to her mother about what it meant and whether it was safe. When the youngster asked to deliver the following day, when her family could join her, she was told no and hooked up to an IV drip that kick-started her contractions and what she described as a long, grueling labor. "It was the worst pain imaginable," she said.
Doody called the young woman's experience abusive and pointed to the closeness of Native families. "Having family members present on such an important occasion is essential," he said.
National statistics show that induced labor tends to occur at a higher rate in rural areas like Cheyenne River, which helps ensure that women deliver safely in birthing facilities, according to the American College of Obstetricians and Gynecologists (ACOG). However, said Kolbi-Molianas, ACOG also calls for expectant mothers to be involved in the decision-making: "ACOG guidelines are very clear that induction of labor is not universally recommended, and that all women should always be counseled about their options."
The Cheyenne River Indian Reservation, and South Dakota as a whole, fall within the IHS's Aberdeen district, which has long been an especially problem-ridden portion of the agency, which may contribute to the seemingly coercive policy and the long-delayed hospital construction. The Senate Committee on Indian Affairs recently heard testimony that indicated difficulties with Aberdeen-Area management, employees with criminal records, thefts of controlled drugs, mistaken diagnoses, and more.
Without a full range of on-reservation reproductive health care, the women of the Cheyenne River Sioux Tribe remain vulnerable. "A woman on the Cheyenne River Indian Reservation has the same rights as any other woman to make medical decisions during pregnancy," said Kolbi-Molinas.
Text c. Stephanie Woodard; image courtesy ACLU.