Wham! Pow! The CDC goes to Comic-Con
P
ublis
hed on the
Huffington Post
in October 2010.
C
hances are, disease control was not top-of-mind for the tens of thousands of wildly costumed attendees at the coolest event in the universe last week —
Comic-Con
's 3-day New York City extravaganza. Nevertheless, many visitors, garbed as superheroes, Manga figures, Star Wars characters, and more, stopped by the
U.S. Centers for Disease Control and Prevention
's booth there for a look at the agency's cheerful exhibit of diabetes-prevention
books and other health-education products
for Native American children.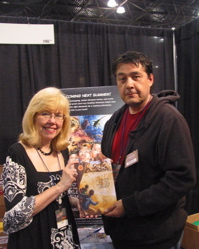 "Patrick got us into this. Most of us are boring scientists," laughed writer Teresa Lofton over the din. A public-health specialist, she collaborates on the books — part of the CDC's Eagle Books brand — with artist Patrick Rolo, from the Bad River Band of Ojibway. A longtime penciller (the person who draws the figures that'll be colored in) for "Iron Man," "Mortal Kombat," "Nightmares on Elm Street," and other comics, Rolo knows his way around the industry and told CDC scientists that the world's largest popular-culture convention was the place to be.
Rolo (shown left, with Lofton; and below, with a cutout of Coyote, one of the stories' animal protagonists) explained that the colorfully illustrated books teach Native children on reservations and in urban-Indian communities to control diabetes through proper nutrition, exercise, and traditional beliefs. The initial works were for little kids; at Comic-Con, the team introduced the first of upcoming chapter-book series that's made with 10-12-year-olds in mind,

Coyote and the Turtle's Dream.

A graphic novel and comic book are also in the works.
Fun setting, serious issue: Diabetes devastates Native people at twice the rate of the white population and is increasingly appearing in children as well as adults, according to the U.S. Department of Health. The CDC's Native Diabetes Wellness Program has responded with innovative ideas, including a traditional-foods project for communities nationwide and the children's products.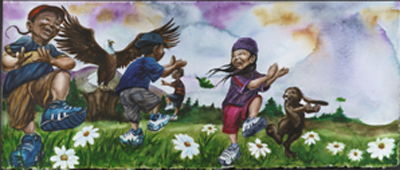 The books create a world. Vibrant drawings show Medicine Cave Reservation in a varied terrain that could stand in for much of the country; and there's enough Native imagery to discreetly imply communities coast to coast. A fossil poacher has invaded the reservation, and because he's stolen certain bones and threatened to kill if he isn't shown more, the world is out of kilter and creeks are drying up. In words and pictures, the action-adventure slips deftly among contemporary and traditional worlds. Helpful animals talk to people, and Native science and mathematics co-exist easily with modern sciences.
The health message is sometimes woven into the action, as the hero helps his mother put away groceries, as she describes the traditional dinner she's making, and as the hero and his pals show a reservation grocery store how to compete by offering wholesome snacks and take-out. Elsewhere, the health message is laugh-out-loud transparent. When the hero receives a critical assist from the kindly reservation police chief, the text offers a quick aside that the officer is strong because he's "a lean-meat and veggies man."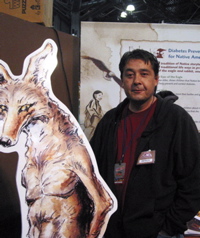 The materials are based on reservation discussions in which elders and officials said, "We want to see ourselves in the books," according to Lofton. To create the books, she, at her desk at Westat, a CDC contractor in Atlanta, and Rolo, at his drawing board in Wisconsin, transmit ideas back and forth, continually polishing their own and each other's work. (Artist and colorist Lisa Fifield, from Oneida Tribe of Wisconsin's Black Bear Clan, has also worked on some books.) As Lofton and Rollo's effort progresses, feedback from Native kids helps refine the concepts. For example, issues confronted by the next chapter book's heroine will include bullying, something children said they wanted help with.
It's all about listening, Rolo and Lofton agreed. Native communities have embraced Eagle Books products, which are provided free in the original print format as well as in other media, including a traveling exhibition of the artwork, Native-science flash cards, a downloadable curriculum guide, and DVDs and downloadable videos narrated by the originator of the series, Georgia Perez, a former health worker at Nambe Pueblo. The communities have also translated the books into traditional languages and created related songs and plays.
Action figures must be next. Eager audiences— kids in Native communities and attendees at the next Comic-Con — await them.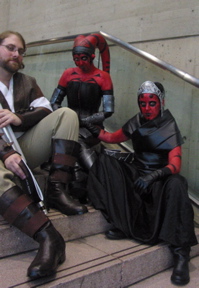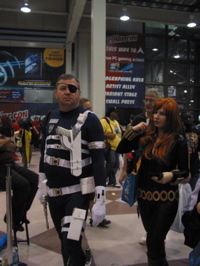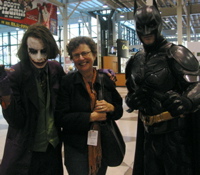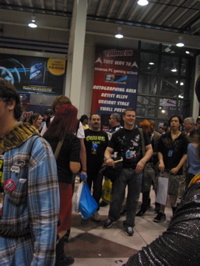 Text and photographs
c. Stephanie Woodard;
book image courtesy CDC.