Oglala Sioux win voting rights — for now
P
ublished by the
Huffington Post
in 2010.
For more on topics like this, see my book,
American Apartheid: The Native American Struggle....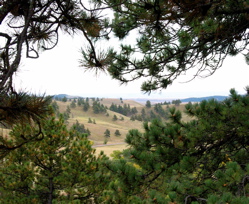 O

pponents of holding a full-scale election on the Oglala Sioux Tribe's Pine Ridge Indian Reservation this fall confronted hopeful voters in Hot Springs, South Dakota, on Sept. 24. It was a sunny day in the Black Hills, where the cliffs are studded with rose quartz and tourmaline, the deer and the antelope play, and herds of buffalo graze in pine-rimmed meadows.
There was a sense of urgency as chairperson Connie Whirlwind Horse called to order a meeting of the five-member commission of Pine Ridge's Shannon County. Early voting had been underway in South Dakota for a week — except in the reservation county. Present in the small courthouse were, on one side, recalcitrant local and state officials, including the head election official, secretary of state Chris Nelson. He'd been pushing just mail-in ballots for the county since a local political spat caused the off-reservation election official to threaten to resign from her reservation duties. The threat lasted three weeks: enough to prevent establishment of Pine Ridge polling places and render even mail-in voting questionable.
On the other side, supporting a bona fide election, were U.S. Department of Justice and ACLU lawyers, voting-rights advocate O.J. Semans, and Oglala Sioux Tribe tribal president Theresa Two Bulls, among others. (Two Bulls is seen below with Semans and Gay Edelman, the Lakota executive director of the Great Plains Tribal Chairman's Association.) One of the state's U.S. senators, Tim Johnson, and its congresswoman, Stephanie Herseth Sandlin, both Democrats, sent representatives.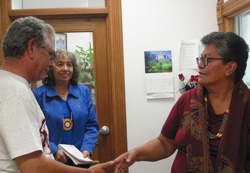 Two commissioners, one white and one Native, quickly staked out a strong position: Shannon County couldn't afford as much voting as the rest of the state. The nation's poorest county was destitute, and Help America Vote Act funds were out of reach. South Dakota reimburses election costs in December, and counties that can't front the cash are out of luck.
Watching with interest were ranchers who felt abandoned by a federal government that long ago pushed white settlement in Indian country as a way to break up reservations. "The government got us into this; it should buy us out and let us move on," said one. Another added, "At least help the county."
Semans, a Sicangu Lakota from nearby Rosebud Sioux Reservation, proposed a Pine Ridge polling place, with 22 days of early voting and a general election day. He also announced that the voting-rights nonprofit he heads, Four Directions, would pay for it. With money problems solved and the election official back at work, the logic of equal suffrage seemed impeccable.
But the election-averse fought on, calling for early voting to be limited to 8 days. They lobbed obstacles into the fray: What if the suggested Pine Ridge polling place has no handicapped access? What if other events are scheduled for the space? We can pay only two poll workers, so can't afford the required Lakota translator.
Responses from rights advocates: The building has a ramp. No other events will be scheduled. Hire a bilingual poll worker.
One more objection from a commissioner: "What if they get used to voting? We're afraid of setting a precedent."
President Two Bulls rose from her front-row seat. "Why are you creating limitations?" she demanded. "We have every right to vote. Why do you think South Dakota is perceived as the most biased state in the nation? We can change that by listening to each other. As a state legislator, I worked with everyone. We can do this."
The commission took its own vote, with an Oglala majority -- Whirlwind Horse, Wendell Yellow Bull, and Francis Pumpkin Seed -- choosing to use Four Directions' donation for a Pine Ridge precinct, open Sept. 28 for 22 days of early voting.
No high fives, though. The debacle is over, but only for 2010, said tribal attorney Brett Lee Shelton, of Smith, Shelton & Ragona. Despite the legal and political firepower present on the 24th, suffrage issues may recur in South Dakota, which Shelton, who is Oglala Lakota, compared to the Jim Crow South. "Our country struggles for democracy worldwide, but right here voting rights are at risk," he said. "Shannon County needs a solution, not a temporary fix thanks to a nonprofit's generosity."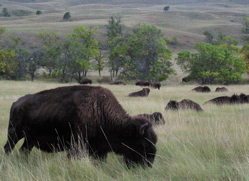 In terms of "setting a precedent," the approximately 8,000 Oglala registered voters are quite accustomed to voting -- despite the difficulties -- and unlikely to relinquish their influential position as a largely Democratic bloc in a state with a small electorate. This, in turn, caused political observers to wonder about the actions of secretary of state Nelson, a term-limited Republican whose last stand, after an admired career, was a futile attempt to quash voting rights.
Should the participants tap a 2012 rematch into their PDAs? Probably, said South Dakota ACLU head, attorney Robert Doody. "It's hard to believe overt race-based denials of equal access occur in 2010," he said, "but South Dakota has not begun to deal with voting-rights issues statewide."
It has to, warned Yellow Bull: "We're not going away."

Text and photographs c. Stephanie Woodard.